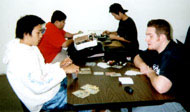 There is no rest, no matter what round:
Here's Alvin & Devon duking it out
& in the background
the Gilbert versus Tsukasa confrontation.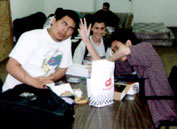 Is it over yet? Don't ask what possesses our resident Comic Relief Lionel (Mr. Alaaa-kazam!), Delta00 is in the back, and someone else I don't know...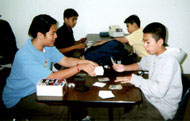 What round? These may be 2 top 8 battles:
Sean versus Howie
(either one CAN take it)
& in the background I think it was My bro's turn to avenge a FTK he experienced the 1st round against John N
(Both QT winners
& will be flown to the ECSTS)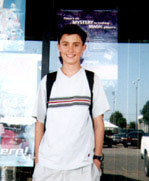 Our Top 11-14 finisher NOT in the Top8
Delta00 - of Pokemaster.com fame
-but was almost chased away after this announcement-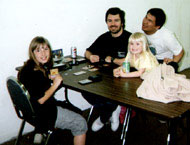 AND Team or is it FAMILY Compendium?
MEET Chrisbo & family
- Hey Lionel, what you doing?-
YOU BETTER believe it that these are some of the toughest tourneys around. ANY round can have a tourney winner (playoff type feel of a game).
MONTHLY we get to gether for a BIG CA$H tourney... EVERYONE is welcomed to join...
DarkStar will hold a DRAFT tourney in JUNE contact ME or Sean ASAP.