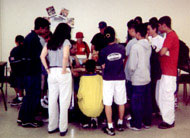 Guess what round this is?
Wrong! The 1st, Scott Gerhardt made a special appearance... & it was ALL the commotion.

Bomie versus Scott in the TOP 8... 2-0 against Scott G
(who was a little out of practice... not by much though)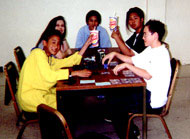 A Burger King break
in between swiss & top 8 finalist.
MEET from left to right: Grayfox, Clefairy Doll (Chris A), Alvin L, Sean P, &... I don't remember.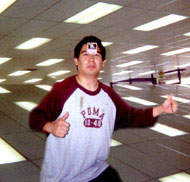 This may only be a temp picture... its ain't weird enough... BUT I gotta share this one with everyone!!!
-Mr. Ala-Kazaaam!-