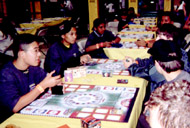 It is 3pm & the FINAL ROUND is about to begin.
GOODLUCK bro!!!!
I did not see any FLIGHT matches (nerves) except for the last 2 matches (sporadically)
I was TOO nervous.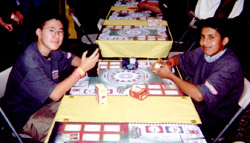 My bro got through a Dvile/Arcanine deck
AND OH NO!!!!
Randy again (You just know he HAD to be good)
-I COULD NOT stand to see the matches. Twinsen21 (Raymond) & Ly kept me up to date... sometimes I asked them NOT to TELL me anymore.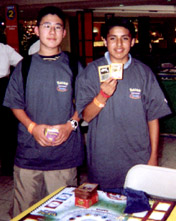 THANKS Randy for being such a GOOD sport. He went up 3 PRIZES on my bro... Was I worried? NO!! I've seen the deck COME back & sure enough Ly kept telling me, He's down 3 prizes... Then my bro crept up 1, 2 then tied & Randy got NO MORE prizes & my bro got all 6 of his!!!
-IF YOU WERE there that SAT you heard me SHOUT for RELIEF!!!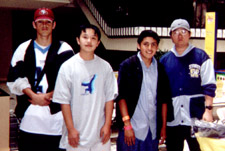 They were some cool guys to hang around with, MY bro & I made some cool friends!!!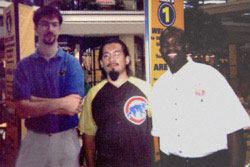 Too bad about Shawn (GOODLUCK!!!) But since I am hardly ever in these pix, WHY not!!
-Thanks SFCrusader for taking the photo-
IT WAS a nerve wracking experience. I just KNEW that WESMINSTER was going to be SO tough (my bro's deck is metagamed there) & Hmmm all of Darkstar (Cerrito/HB), Team Random players were GOING to be there... so taking a gamble and BRINGING my Bro up here to qualify for the ECSTS WORKED out.
-And the next day we headed to Diamond Bar?-
-MY relatives COULD NOT BELEIVE IT that he won... I had FAITH!!!--
---and So how did the rest of TEAM RANDOM fare? Westminster's PIX coming up next...